Lumpinee Stadium | Rajadamnern Stadium
If you are into Muay Thai, or martial arts in general and happens to find yourself in Bangkok City, Thailand, a visit to one of the citys many boxing stadiums on a fight night is a sure "must do" for you. It is in Bangkok you will find many of the best fighters in the Muay Thai circuit of Thailand. Some of the countries most successful training camps are located here as well. "Sangmorakot", "Jitti Gym" "Keatkhamtorn "Chuwattana" and "Keawsamrit" to name a few. Down below you will find an introduction of the major stadiums of the city.
Lumpinee Stadium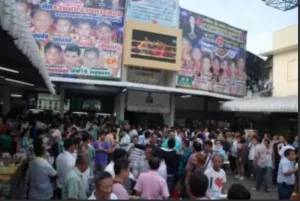 Lumpinee was opened in December 1956, and is operated by the Royal Thai Army. Lumpinee is considered to be the number one stadium in Bangkok and Thailand, its only true rival is Rajadamern Stadium. To win a stadium belt at any of these stadiums is truly one, if not the finest achievement one can do in this sport. It is a general opinion among many Muay Thai fans that a championship belt at any of these stadiums ranks higher than any world title belt out there. To fight at this legendary stadium is a dream for every fighter in the sport.
Although the structure of the stadium is pretty wore down by wear and tear, the atmosphere in the stadium is great, it has a capacity of around 10 000 seats, with the live music and the gambling going on, it is a pretty unique experience to watch live fights at Lumpinee Stadium. Talking of gambling, this is one of the few places (alongside Rajadamnern) in Thailand, where gambling is legal.
Many famous boxers have held titles at Lumpinee through the years, but most notable must be the legendary Dieselnoi Choe Thanasukarn. His prime was in the mid 80ths, when he held the title without defeat for over four years, until he more or less were forced into retirement because there were no opponents left to fight.
Muay thai contests are held on every Tuesdays, Fridays and Saturdays. The fights usually start around 6.00 p.m. Ticket prices range from 200 baht up to 2000 baht (ringside).
Rajadamnern Stadium
The other big stadium in Bangkok, who together with Lumpinee sometimes is called "The Mecca of Muay Thai" is the famous Rajadamnern Stadium. Located close to the touristy "Khaosan Road" central Bangkok. Construction started in 1941, but was delayed because of World War II. But in December 1945 the stadium was finally completed and the first fights were held. This makes Rajadamnern the oldest, still active stadium in the kingdom.
Rajadamnern is ranked as one the best stadiums in Thailand, second only to the Lumpinee. However, when it comes to design and structure it is no doubt where the number one stadium in town is to be found. The structure of the stadium is built like an ancient Roman amphitheatre, completely made out of stone and marble. This adds an extra flavour to the already fantastic atmosphere, as the roar of the crowd literary bounce around the stadium.
Just like at Lumpinee Stadium, lots of well known boxers have fought and held belts in the ring at Rajadamnern over the years, here is a list of some these boxers:
Saiyok Pumpanmuang,
Jomthong Chuwattana,
Jean Charles Skarbowsky,
Malaipet Sasiprapa
Anuwat Keawsamrit,
Bovy Sor Udomson.
to name a few…
Muay Thai contests are held every Monday, Thursday and Sundays, generally Thursdays hold the strongest fightcard of the week. Ticket princes are the same as on Lumpinee, between 200 – 2000 baht.
In addition to these to stadiums there are a few more worth mentioning, such as The Channel 7 Stadium, Siam Omnoi Stadium and Bangkok Boxing Stadium.